A dear friend, family member, and wonderful human being has passed into eternity. No words can truly express our sense of loss over the passing of Frankie Restifo.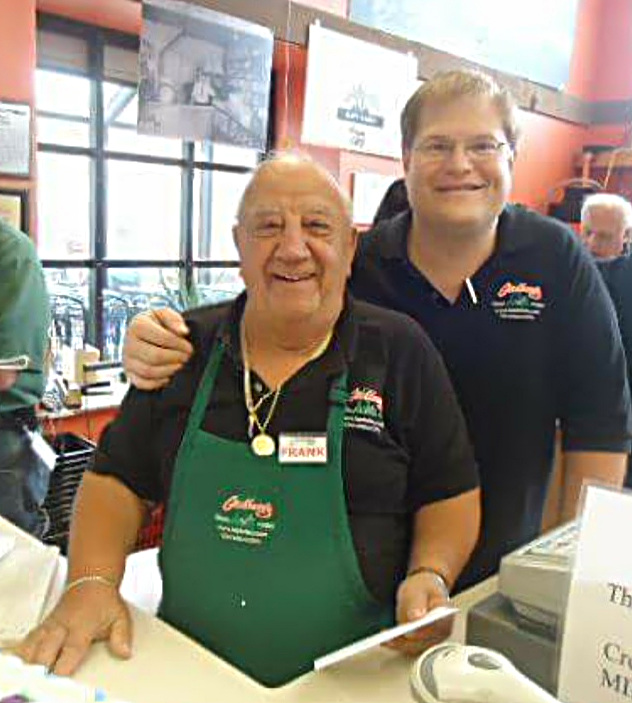 Frankie started with Gallucci's shortly after serving in the Korean war, and gave our family more than 60 years of faithful service. His years with Gallucci's family are not only measured in the tremendous amount of time he gave to our family, but the life and spirit he brought to our store. Frankie was known for his encyclopedic memory of history, and he never forgot a customer. He could identify the die cut and number on any pasta we carried. His work ethic was unmatched, both maintaining employment with Gallucci's, and retiring from The Ford Motor Company. Frank was feisty, but courageous and fiercely loyal. The Gallucci family trusted him to train the next generation. Our current vice president was only a small boy, when he and his cousins Frank, and Jeannie Gallucci, who both became successful attorneys, started learning Italian food under Frankie's tutelage. Starting with stocking shelves, they learned the business from the ground up, and he put them all on the path to great things by instilling love for service and sharing Italian culture. When asked about that time, Gallucci's vice President Marc Kotora gets misty eyed and smiles. "Frankie went from being my boss, to my most loyal friend. We travelled together, and he was with us at holidays. He was the last living connection to my great grandfather Gust, the founder of our company, and the last of his generation still with Gallucci's. We were lucky to have him in our lives, he made our store and family better."
The commitment to his ancestral Italy went far beyond the Gallucci's store and family. Frankie was a member of several Italian clubs in the region. A devout Catholic, he was an usher with St. Monica's church until his passing. We could fill pages with details all stating the simple fact, Frankie was just an all-around great guy, and we are blessed to have had him with us for such a long, beautiful life. He is survived by two sisters, countless nieces and nephews, friends, colleagues, and loving customers. He will forever be in our memory at the cash register, giving Zucchini flowers and fresh basil from his garden to anybody who shared his passion for gardening, and even deeper love of giving the fruits of his labor. Today we celebrate a life well lived. He will be forever missed.